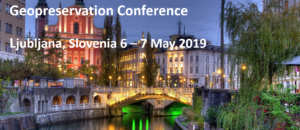 Conference presentations are now available in the archive.
The European Commission Connecting Europe Facility (CEF) eArchiving Building Block (including the E-ARK4ALL Consortium), the Archives of the Republic of Slovenia, the DLM Forum and the company Geoarh are pleased to invite you to the eArchiving Geopreservation Conference in Ljubljana on the 6th and 7th of May, 2019.
The eArchiving Geopreservation conference is going to be an exciting two-day event that will bring together producers of geospatial information, archives, data repositories and solution providers.
We are offering the attendees two slots (Session 2 on 6th of May and Session 6 on 7th of May) in a form of lightning talks: short 5-10 minutes speaks/presentations during which speakers can present their views, experiences, issues, solutions and best practices:
Session 2 topics: mainly focused on the experiences of data producers, data owners, archives, data users and their issues and challenges related to maintenance, acquisition and long-term usability of geospatial data (e.g. what kind of data is kept, in what formats, changing coordination system and/or formats, lack of some other information needed for proper interpretation/rendering geodata).
Sessions 6 topics: mainly focused on solutions for providing access to geodata and experiences of geodata usa for providing context for other records and historical events. (e.g. spatial data infrastructure solutions, web platforms, solutions for geodata preservation activities, rendering tools, geodata catalogues, tools for transformation of formats/coordination systems).
You can register for lightening talks via registration form, once the registrations are open, and organisation committee will contact you and provide the details.
In today's digital world, an increasing amount of born digital information also includes a spatial component. The environment in which such information is created and managed, however, is not made for long- term preservation. More than decades of experience with digital spatial data management shows us that preservation of data and especially maintaining data usability over time has often been overlooked. The purpose of the conference is to point out the key factors that affect the handling of geospatial data, its preservation and its further usability. It aims to connect different geospatial community stakeholders (data creators, regulators, solution and service providers, archives, academia) from Europe and around the world, offering an opportunity for them to share their experience and solutions, face their common challenges and issues, and learn from each other.
The venue of the meeting is in Domus Medica Conference centre (Dunajska cesta 162, Ljubljana, Slovenia).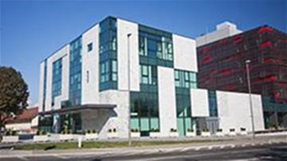 If you have any questions, please contact Anja Paulič at anja.paulic@gov.si or Jože Škofljanec at joze.skofljanec@gov.si.
We are looking forward to see you in Ljubljana!
Registration are now closed.
Important Documents:
Live Streams:
Organization:
Sponsors: